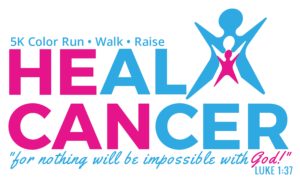 Online Registration is now closed. You can still register for this event at the following:
OPTION #1: Mark your calendars and join us Tuesday, Oct. 1 from 5-8pm at Zaxby's in Greer for the HeCan5k Spirit Night.
Race participants will be able to pick up their t-shirts and bibs. Onsite registration will be available for anyone not registered.
As a bonus, 10% of Zaxby's sales (dine-in & drive-thru) will be donated to the HeCan5k for the families of Maddie Barnett & Abbie Barnette.
OPTION #2: Register onsite on the day of the race, Saturday, October 5, beginning at 7:00 a.m. Look for the Registration Table close to the Start/Finish line.
We Look forward to seeing you at one of these events!