"As iron sharpens iron, so a friend sharpens a friend."
|
Proverbs 27:17
The REC Ministry leverages the power of sports and recreation to connect with families in our community & church to promote physical and spiritual growth through an active and healthy lifestyle as we seek to share Jesus Christ with others.
Locust Hill Church Night
@ Littlejohn Coliseum
Sat., Dec 18 | Tip-Off @ 8:00 p.m.
Click the Graphic to Order Your Tickets Today!
BUS TRANSPORTATION AVAILABLE TO
*Email ticket receipt to rec@locusthillchurch.org to reserve your seat on the bus.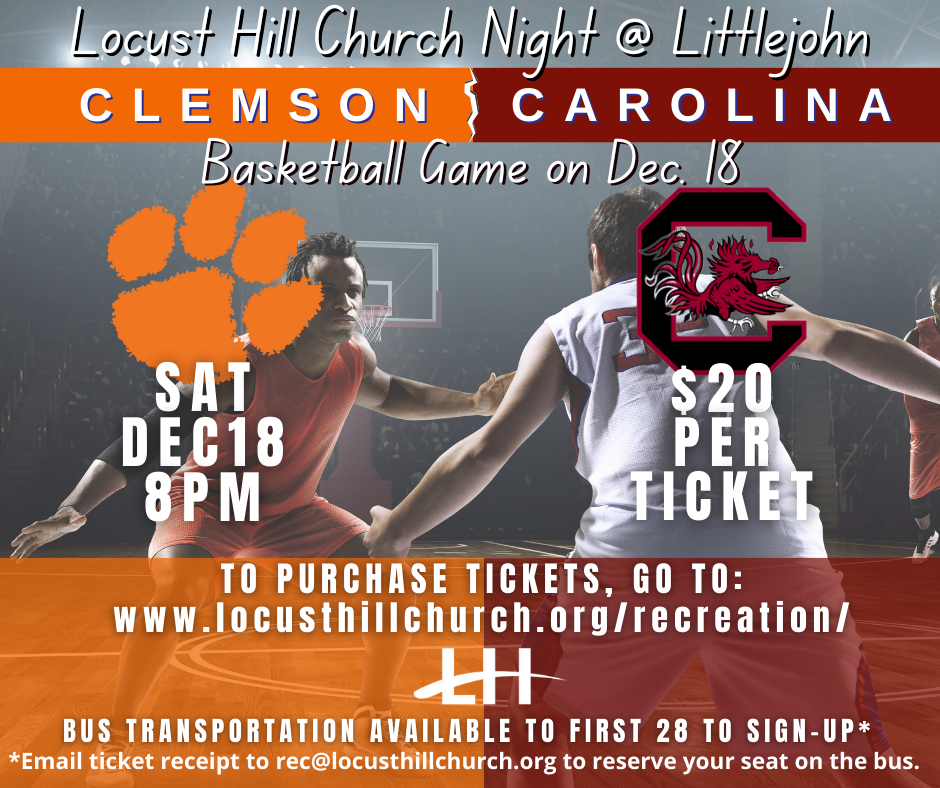 • CHURCH RECREATION NEWS •
WELCOME TO THE 2021
LOCUST HILL
BASKETBALL SEASON
Locust Hill participates in the Wade Hampton Church Basketball League along with several other churches throughout the northern part of Greenville County. For more information on the league, visit their website here!
• TEAM SCHEDULES •
Click on the individual team to go to their schedule.
If you have any questions please contact the Church Office at (864) 895.1771 or John Harris, Recreation Ministry Leader, at (540-226-9466).
Contact Information
If you need to get in touch with someone from the Locust Hill REC Ministry Team, please use the form below:
REC MINISTRY TEAM
John Harris, Team Leader (rec@locusthillchurch.org)
Arvie Bennett, Shane Clark, Jodi King, Ray Riley, Meri Stokes