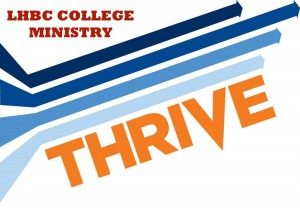 SCHEDULE
The church van will pickup students at NGU at 9:15am each Sunday Morning for anyone needing a ride!
THRIVE COLLEGE & CAREER
The purpose of Locust Hill's College & Career Ministry is to help young adults THRIVE during this important season of life. The dangerous temptation for this part of life is to hit the "pause" button and resume the spiritual journey at some point in the future. However, Jesus said in John 10 – "I have come that they might have life, and have it more abundantly."
Please join us every Sunday morning at 9:30 in the fellowship hall for breakfast and Bible Study! We also have MANY opportunities for college students to use their spiritual gifts. Please contact Julie Cannon at julie@locusthillchurch.org for more information!